Guaranteeing a fun, adrenaline packed race experience at our 5 star rated karting centres in Edinburgh or Falkirk. our exclusive race events can be booked in advance, and are recommended for groups of 6+ drivers!
Exclusive Race Events – Racing drivers solely in your group

(minimum age 14+)

Format

Price per person

Mini Grand Prix Race Events (6-30 drivers)

An adrenaline packed, fun and exciting race event offering the thrill of grid starts, qualifying heats and then an action packed final for all drivers, culminating in the medal presentation and bragging rights / excuses!

Mini GP

Practice laps

Two qualifier heats

Grand final followed by medal presentation

Super / Ultimate Mini GP upgrade options available

From £37.50pp

Contact us for event pricing details

Grand Prix or Team Endurance Formats for 30+ drivers

A bespoke tailored option exclusive to your group!

From £37.50pp
Interested? Contact us for more information on the event format, to book or discuss the dates and times available.
You can also email info@xtremekarting.co.uk, or complete a contact form to get more details!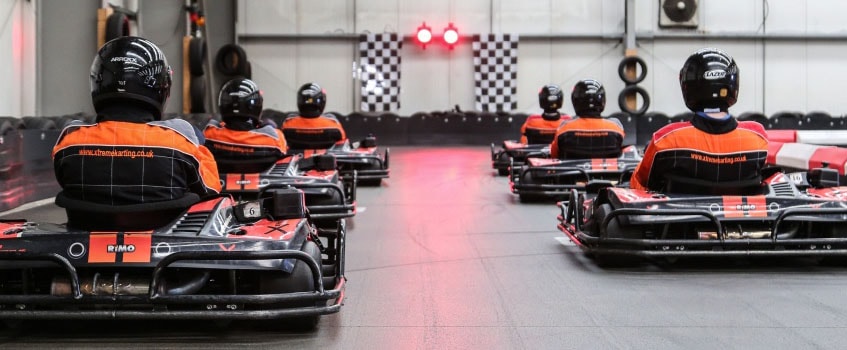 Important:
All prices inclusive of VAT.
All events subject to availability / minimum numbers at peak periods.
All drivers must wear balaclavas under helmets for hygiene reasons, reusable balaclavas are available to buy for £1.50 from reception.
All drivers must be a minimum of 14 years old, drivers under the age of 16 must be accompanied by a responsible adult aged 16+ at all times (please bring a suitable form of id if the driver looks younger).
At peak times Xtreme Karting may require a minimum number of drivers to obtain exclusive use of the centre.