Looking for even more fun? Combine your racing with adrenaline packed lazer tag combat (available at our Edinburgh centre only)!
Either before or after your karting event – experience the thrill of combat in our all-weather urban combat arena at our Newbridge karting centre.
Using state of the art highly accurate weapons, there is no pain, and no expensive ammo to buy – all this for ONLY an extra £10 per person when upgrading from a karting event SAVING £15 pp!
Adrenaline Packed Action – Without the Pain!
6 x 10 minute action packed combat sessions
Set Price, No Costly Ammo Refills!
No additional Transport costs
Pain Free Infra Red Beams
Discounted price when booking as a package with Karting!
Open Combat Sessions (Saturdays)
09.00am – 11.00am Open Mini Grand Prix then Xtreme Combat Midday to 2.00pm ONLY £49.50pp
10.00am – 12.00pm Combat then Open Grand Prix 1.00pm to 3.30pm ONLY £57.50pp
11.00am – 1.00pm Open Grand Prix then Xtreme Combat 2.00pm to 4.00pm ONLY £57.50pp
Midday – 2.00pm Combat then Open Grand Prix 3.00pm to 6.00pm ONLY £57.50pp
1.00pm – 3.00pm Open Grand Prix then Xtreme Combat 4.00pm to 6.00pm ONLY £57.50pp
Call our Events Team for more information on the event formats available, to book or discuss the dates and times available.
You can also email info@xtremekarting.co.uk, please advise a preferred centre and approx numbers.
Camouflage suits optional!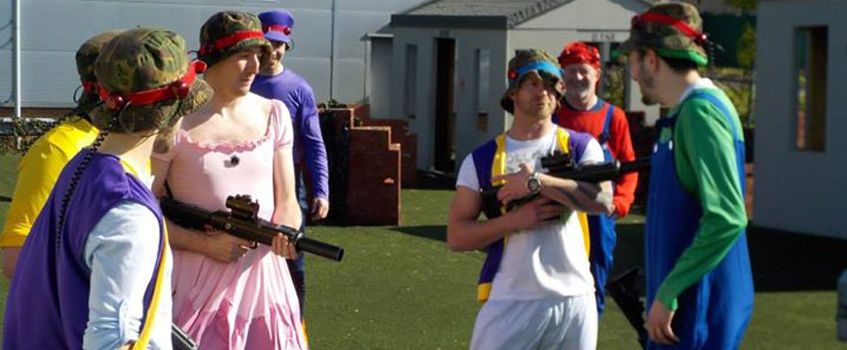 Event Format:
If you have played online combat games and dreamed of playing for real? Well now you can! Our all-weather combat arena provides a serious adrenaline rush!
Listen to the mission briefing, familiarise yourself with your MP5 weapon, discuss tactics with your team then GO, GO, GO!!!! Take aim through your red-dot sight, pull the trigger and take out your opponents at up to 450 rounds per minute!
Its painless, with the guns firing infra red beams detected by sensors you wear, and with no costly ammo refills you can really get into the missions without worrying about getting hurt or the cost!
Team tactics are critical, progress through the combat zone using urban barricades, provide covering fire for your team, act as a lone sniper, or take the glory on a suicidal run! What is your mission? Will your team win?
It's safe, painless, accurate, addictive and great fun!!!!
N.B. Karting and Combat packages inc VAT and equipment. Please dress for the weather! Combat suits available to hire at an additional cost of £2.00 / person. Min 8 players to start an "Open" session. Contact us for exclusive sessions. Min age 14+ for these Open Combat Sessions, however Open Karting Sessions are min age of 16. For combat sessions participants aged 14/15 years old require an adult 18+ to be present.