Race at our indoor go karting centres in Edinburgh and Falkirk, purposely designed for a fun, exciting race experience!
Battle at our urban combat arena in Newbridge, Edinburgh, using state of the art laser tag weapons in a range of combat missions!
Experience the thrill of our immersive "Game Over" challenge, can you retrieve "The Philosopher's Stone" in our Harry Potter inspired challenge, or rescue the "Top Secret" documents from the vault, or survive and escape our zombie apocalypse in "The Walking Death"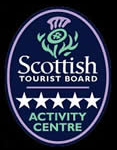 Our Edinburgh Centre is independently rated by Visit Scotland as 5 Star Visitor Attraction (the highest rating possible!), and is Central Scotland's largest indoor karting track! We also have our popular urban laser tag arena, and new "Game Over" challenge experiences, the Harry Potter inspired "The Philosopher's Stone" and "Top Secret" at this venue!
Our Falkirk Centre (rated 4 stars by Visit Scotland) features a bridge section with exciting underpass, providing exciting racing at our indoor karting track! We also have our "Game Over" challenge "The Walking Death" where you can explore the prison section, will you escape before the zombies break in…!
Both our Edinburgh and Falkirk centre's are within easy travelling distance from Edinburgh, Livingston, Glasgow (our Falkirk centre is less than 25 mins from Glasgow), and Fife – pretty much across all of Central Scotland!.
We aim to offer you the chance to experience indoor go karting, laser tag and "Game Over" in Scotland at its very best – check out our reviews!