Guaranteeing a fun, adrenaline packed race experience in Falkirk. we are trialing a new way to book your race event – with just a £30 deposit!
Allowing you to book an event online, invite your friends and just pay for whoever turns up! It doesn't get much simpler!
We need a minimum of 6 drivers to run the event, and a have a maximum of 18 – if looking to book for more people please contact us on 01324 579797 to discuss the options available!
What happens if less than 6 turn up? We will run our Practice session 4×10 min offer for £32.50pp for those who came along, not quite racing from grid starts but still providing incredible fun!
Falkirk Mini GP Event Booking Offer

Reserve your slot for only £30

Format

Price per person

An adrenaline packed, fun and exciting race event offering the thrill of grid starts,

two qualifying heats and then an action packed final for all drivers,

culminating in the medal presentation and bragging rights / excuses!

NB Events Mon- Thurs before 6pm get 20 lap heats / 20 lap final, all other times 15 lap heats / 15 lap final

Practice laps

Two qualifier heats

Grand final followed by medal presentation

Mon-Thurs

£37.50pp

Fri-Sun

£42.50pp
Interested? Book your race event now by visiting our online booking site!
If you wish to discuss alternative time slots, driver numbers or formats please contact us on 01324 579797 / email info@xtremekarting.co.uk, or complete a contact form !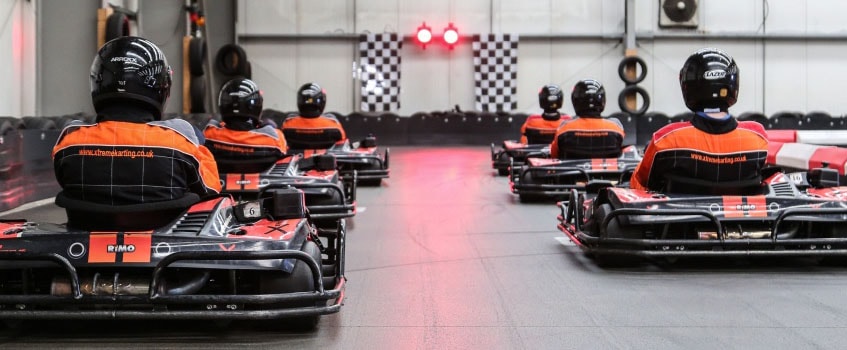 Important:
All prices inclusive of VAT.
All drivers must wear balaclavas under helmets for hygiene reasons, reusable balaclavas are available to buy for £1.50 from reception.
All drivers must be a minimum of 14 years old, drivers under the age of 16 must be accompanied by a responsible adult aged 16+ at all times (please bring a suitable form of id if the driver looks younger).
Please note other sessions will run in between your heats, expect to be in the centre for approx 2 hours depending on driver numbers etc