Our Edinburgh and Falkirk centres are both now back open! Focused, as ever, on delivering a fun, thrilling experience in a COVID-19 secure environment. 
Please note all sessions MUST be prebooked to allow us to manage visitor numbers and comply with our COVID19 risk assessment, we cannot accommodate walk in customers/spectators. 
Our online booking system is available, and you can book slots safe in the knowledge we will continue to offer our COVID 19 Booking Guarantee!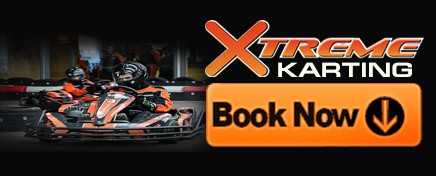 Our no quibble COVID19 Booking Guarantee: Given the uncertainty surrounding bookings with the impact of COVID 19, we are happy to confirm that all prebooked sessions can be rescheduled or refunded up to 24 hours in advance of the booking, after this point sessions can still be rescheduled up to 4 hours before the session time.
Helmet / Suit Sanitising: We would also like to update everyone on how we are sanitising helmets / race suits, as this has remained a frequent question from visitors. Prior to reopening both centres invested in new state of the art OZOCAB sanitising cabinets, these allow both helmets and race suits to be sanitised with a constantly monitored dose of Ozone (proven to eradicate the COVID19 virus). We have also invested in over 300 new helmets, allowing each customer to be allocated a sanitised helmet and race suit on arrival, that is only used by that customer for the duration of the visit, and then returned when leaving allowing the equipment to be sanitised again.
Every customer is also issued with a "Hygiene Pack" that includes a balaclava (can be used as a face covering in centre) and gloves – the cost of the Hygiene Pack is included in the session price!
Karting (Now open – Book online!):
We are able to offer Race Experience Sessions suitable for juniors (ages 10-16) and Adults (ages 14+) at both our Edinburgh and Falkirk centres, providing a fun and thrilling experience in a COVID secure environment for smaller groups of racers (with the option of adding medal sets), and we still can offer race school for budding drivers aged 8-9.
At present we will not be offering exclusive Race Events or Junior Karting Parties, although options are available to experience the thrill of karting in our Race Experience Sessions, with the option of adding medal sets for the more competitive groups. For larger groups please email info@xtremekarting.co.uk for options.
Combat (Now open – Book online!):
Junior Combat Parties: We have altered the format of these parties to allow under 12's (ages 6-11) to play in our Special Forces Party Events, as this is an outdoor activity no social distancing is required and they can still have lots of fun, whilst complying with the latest COVID precautions and rules!
Open Combat Events: We are still offering our Special Forces Open Combat events, suitable for family groups (ages 6+ / adults) to experience the fun and thrill of laser tag combat in our outdoor urban themed arena.
Game Over Escape Rooms – (Opening Sat 8/5 – online booking going live shortly!) :
Experience the thrill of our immersive "Game Over" escape rooms, can you retrieve "The Philosopher's Stone" in our Harry Potter inspired challenge, or rescue the "Top Secret" documents from the vault, or survive and escape our zombie apocalypse in "The Walking Death". Challenging, and fun for groups of up to 6 players (max 2 households).
Our key Covid19 policies and procedures can be found on our website here – https://xtremekarting.co.uk/we-are-good-to-go/
Gift vouchers have all been extended by 18 months from the purchase date, so there are no concerns over gift voucher validity! 
Please get in touch if there is anything further you need in the meantime.
Most importantly, please continue to take care in this difficult time.
Regards,
The Xtreme Team!