UPDATED 18/4/22 – Following Updates –  there are no changes to our operations or booking processes, and we continue to review our Risk Assessment requirements to meet any changes.
Our Edinburgh and Falkirk centres are open! Focused, as ever, on delivering a fun, thrilling experience in a COVID-19 secure environment. 
To ensure that we can manage customer bookings and expectations effectively, the following policies will be in place until end September 2022 (when a further review will take place). This ensures no matter what way levels change, we can offer exactly what we advertised/promised, unless of course there is a lockdown in which case sessions would all be refunded as per the previous lockdown.
Please note all sessions MUST be prebooked to allow us to manage visitor numbers and comply with our COVID19 risk assessment, we cannot accommodate walk in customers/spectators. Our online booking system is available, and you can book slots safe in the knowledge we will continue to offer our COVID 19 Booking Guarantee!
Please note that we are only accepting card payments in the centre for miscellaneous purchases eg bottles of juice etc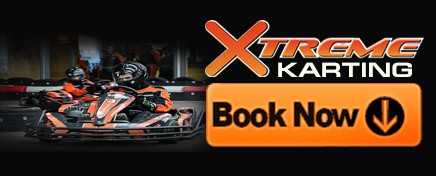 Our no quibble COVID19 Booking Guarantee: Given the uncertainty surrounding bookings with the impact of COVID 19, we are happy to confirm that all prebooked sessions can be rescheduled or refunded up to 24 hours in advance of the booking, after this point sessions can still be rescheduled up to 4 hours before the session time. Please note we adhere strictly to this policy.
Ventilation: Our indoor centres are extremely well ventilated, and we have CO2 monitors in the reception area targeting a level of <500ppm (background levels approx 400ppm, HSE guidelines state that indoor areas less than 800ppm are well ventilated). Please ensure you dress appropriately, as the reception areas are therefore unheated and we are in Scotland!
Helmet / Suit Sanitising: We would also like to update everyone on how we are sanitising helmets / race suits, as this has remained a frequent question from visitors. Prior to reopening both centres invested in new state of the art OZOCAB sanitising cabinets, these allow both helmets and race suits to be sanitised with a constantly monitored dose of Ozone (proven to eradicate the COVID19 virus). We have also invested in over 300 new helmets, allowing each customer to be allocated a sanitised helmet and race suit on arrival, that is only used by that customer for the duration of the visit, and then returned when leaving allowing the equipment to be sanitised again.
Every customer is also issued with a "Hygiene Pack" free of charge, this includes a balaclava (can be used as a face covering in centre) and gloves – the cost of the Hygiene Pack is included in the session price!
Food/Party Rooms: Please note that we are currently not offering food or Party Rooms at present, and do not allow any food to be brought into the centre (including birthday cake etc).
Face coverings: The wearing of Face Coverings is recommened (you can use your karting balaclava to cover mouth / nose) when in the karting centre and also the outdoor combat arena (NB This includes children ages 6+) unless medically exempt, this is for the safety of both customers and staff, your help in adhering to this policy would be appreciated.
Social Distancing: Groups outwith family bubbles will be asked to socially distance. Given the nature of the activity individuals are obviously socially distanced when racing.
Temperature Checks: All customers and staff are temperature checked on arrival to help identify any potential risks
Cleaning / Staff Testing: Our cleaning procedures have been enhanced, hand sanitising is available throughout, and we are supporting staff testing using RAT tests at the start of shifts.
Karting (Now open – Book online!):
We are able to offer Race Experience Sessions suitable for juniors (ages 10-16) and Adults (ages 14+) at both our Edinburgh and Falkirk centres, providing a fun and thrilling experience in a COVID secure environment for smaller groups of racers (with the option of adding medal sets), and we still can offer race school for budding drivers aged 8-9.
We are offering our Exclusive Race Events for those looking for a more competitive, exclusive, style of event (ages 14+), subject to availability and group numbers. We also have our Open X-Race events on Saturdays (with restricted numbers) suitable for Stag / Hen / smaller adult groups.
At present we will not be offering Junior Karting Parties, although options are available to experience the thrill of karting in our Race Experience Sessions, with the option of adding medal sets for the more competitive groups. For larger groups please email info@xtremekarting.co.uk for options.
Combat (Now open – Book online!):
Junior Combat Parties: We have exclusive Special Forces Party Events available for ages 6+ with a range of missions in our Urban Themed arena!
Open Combat Events: We are still offering our Special Forces Open Combat events, suitable for family groups (ages 6+ / adults) to experience the fun and thrill of laser tag combat in our outdoor urban themed arena.
Game Over Escape Rooms – (Now open – Book online) :
Experience the thrill of our immersive "Game Over" escape rooms, can you retrieve "The Philosopher's Stone" in our Harry Potter inspired challenge, or rescue the "Top Secret" documents from the vault, or survive and escape our zombie apocalypse in "The Walking Death". Challenging, and fun for groups of up to 6 players.
Gift vouchers have all been extended by 24 months from the purchase date, so there are no concerns over gift voucher validity! 
Please get in touch if there is anything further you need in the meantime.
Most importantly, please continue to take care in this difficult time.
Regards,
The Xtreme Team!